Janardan Home Stay Jai Palace Balrampur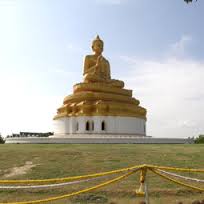 The nearest railhead from Shravasti is located at Balrampur which is 17
Kilometres
away from Shravasti.
Janardan Home Stay Jai Palace
Balrampur
is at prime location near to the
ancient city of Shravasti, a flourishing habitation that is an important landmark in the history of Buddhism and Jainism alike, is at present but a collection of ruins called
Sahet-Mahet
.
Shravasti holds immense religious significance for the Buddhist and Jain pilgrims. The third
Tirthankar
, Lord
Sambhavanath
was born in Shravasti and it was here that he attained the ultimate light of knowledge through meditation. The name of Shravasti holds deep significance in the Jain mythology and finds mention in religious discourses.
The Monuments
in
Shravasti
in
India include plinths and foundations of temples and
stupas
that once were
centers
of much activity. The
Anandabodhi
tree in
Jetavana
monastery,
Gandhakuti
(Buddha"s hut) in
Jetavana
,
Stupa
of
Angulimala
, remains of City walls of
Sravasti
, with ancient city gate, the remains of
Jetvana
Monastery, the spot where Buddha performed the "Twin Miracle",
Anathapindika"s
Stupa
, are the principal Monuments In Shravasti In Uttar Pradesh India.
Another interesting set of Monuments
in
Shravasti Uttar Pradesh are to be found in
Maheth
. Modern day
Maheth
is said to have been the original site of the city of Shravasti. A cluster of ruins showing remains of city roads, buildings, walls are to be found here in
Maheth
.
Anathapindika"s
Stupa
, Shravasti
Angulimala"s
Stupa
, Shravasti  
From
Janardan Home Stay Jai Palace Balrampur
, you can visit
the above said sites comfortably and stay in absolute comfort. We also organize trip to
Shravasti tourist
Interest sites on demand.
Photogallery
Staying at a Janardan Home Stay in India is all about immersing yourself in India

Book online using the button above. For more information, please call on 8808133777, 9795005888, 9235501849
You can also email us at sales@janardanresort.in, contact@janardanresort.in or marketing@janardanresort.in
& be friends with "Janardan resorts, pangot" on Facebook, and follow us on @JR_Nainital on Twitter.

Happy Holidays!
Janardan Farms and Resorts,
Lucknow,
Uttar Pradesh