Janardan Home Stay Goa 1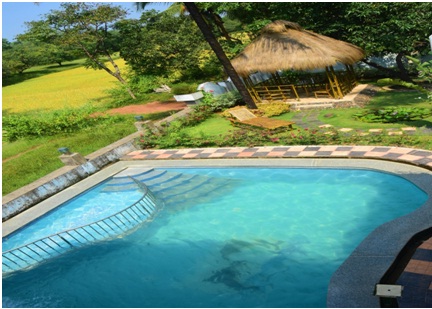 Goa is a state in western India with coastlines stretching along the Arabian Sea. Its long history as a Portuguese colony prior to 1961 is evident in its preserved 17th-century churches and the area's tropical spice plantations. Goa is also known for its beaches, ranging from popular stretches at
Baga
and
Palolem
to those in laid-back fishing villages such as
Agonda
.
Janardan
Home stay Goa1, is residential property, and located approx. 
18 km from Goa Border.
There are prominent tourist interest place
and sea beaches
near by this property. The nearest beach is
Vengrulla
Sea
beach ,
a very peaceful and beautiful beach 17 km away from this property in
Maharashtra
. 
Vengurla
is popular for its long stretch of clear white sand beaches ringed by high mountains.
One of the busiest ports during the reign of Maratha King
Chhatrapati
Shivaji
, the port was a busy trade center between the 16th and 18th century. The existence of huge warehouses, trading centers and markets are pointers to its rich mercantile past. Between 1664 and 1812, the town was twice burned to ground. The residue of the attacks is still seen on the
Vengurla
rocks, and is now popularly known as Burnt Island. The Burnt Island is group of three large rocks that were once an important navigation point for seafarers. At present, the rocks act as a breeding site for a rare bird, the Indian
Swiftlet
.
Vengurla
boasts of five stunning beaches.
,
,
Mochemad
beach,
Sagareshwar
beach, and
Vayangani
beach.
Of these,
Nivati
and
Shiroda
beaches are highly recommended as they are blessed with crystal clear water and offer great opportunities for water sports.
Vengurla
is also famous for its temples like the
Mauli
Devi Temple,
Sateri
Devi Temple and
Shri
Vithoda
Temple.
Though not a shopping destination, roasted cashew nuts and sweets made from cashew are worth trying and are found in shops all around the town.
Cashew fenny is a popular beverage in Vengurla.
The rooms are big enough to house a family and well maintained interiors. It is a budget home stay in the
nearby area of Goa
.
Photogallery
Staying at a Janardan Home Stay in India is all about immersing yourself in India

Book online using the button above. For more information, please call on 8808133777, 9795005888, 9235501849
You can also email us at sales@janardanresort.in, contact@janardanresort.in or marketing@janardanresort.in
& be friends with "Janardan resorts, pangot" on Facebook, and follow us on @JR_Nainital on Twitter.

Happy Holidays!
Janardan Farms and Resorts,
Lucknow,
Uttar Pradesh